History of "Chmielna 5" building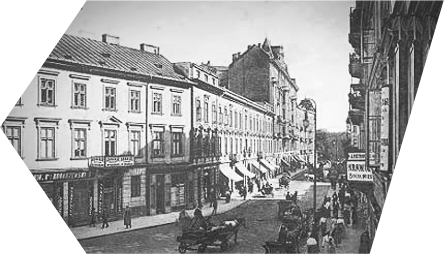 "Even in 1852, as we can see the town looking at houses Tariff Warsaw and Prague, compiled by H. Świątkowski, estate at. Chmielna 5 was part of a larger plot, stretching from the New World along Chmielna. It was spun off in the late 50′s of the nineteenth century, and soon stood on the building, facing the street front Chmielna.
The investor was Seweryn Smulikowski (father), and project author Peter Frydrych , who began his career under the guidance of Antonio Corazzi in the construction of the Grand Theatre. In later years the building housed a hotel that despite the pompous name of "Grand Hotel Garni",  was not big, nor particularly luxurious. Affordable prices attracted more affluent visitors from the provinces – the Warsaw guide in 1923 described it as "tertiary" and the guide of 1937 as "modest". Hotel had 73 rooms – prices in this kind of hotels in the 30′s ranged from 4 to 18 zlotych for a single room and from 6 to 27 for a double room. For comparison – in the European hotel you had to pay from 8 to 35 zlotych for a single room and from 14 to 100 for a double room.
But back to our title pearls in the back yard. The building was built at the initiative of Seweryn Smolikowski (son) in the years 1894-1895 as the hotel restaurant pavilion, designed by Stefan Szyller. The pavilion had richly decorated Neo-Renaissance façade, which held allegories by Hippolytus Marczewski of Harvest, Fishing, Hunting, and Vintage. The basement housed the kitchen, and dining rooms  on the ground floor and first floor. Unfortunately, both the Grand Hotel (that was the exact name in the interwar period), and the dining hall had been badly destroyed during the Warsaw Uprising. In the BOS inventory made in 1946, you can read the recommendation: "completely burned out, not suitable for reconstruction." Fortunately, both the front building and pavilion have been rebuilt, but the pavilion restaurant has been integrated into the walls of the new, higher outbuilding, which has lost much of its charm. Despite this, in common parlance, the building was raised to the rank of the palace, which became the headquarters of the Society of Friends of the Fine Arts, and in the years 1968-1975 under the auspices of the seat cabaret.